Tea party vows to stay for long haul, takes no blame for GOP losses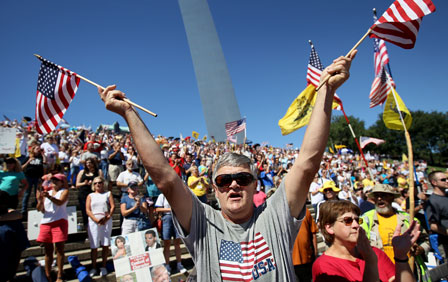 By Seth McLaughlin-The Washington Times
Tea party leaders say they refuse to be the scapegoats for the drubbing Republicans took on Election Day, claiming it was the party establishment — not their insurgent movement — that cost the party seats in the House and Senate and returned President Obama to the White House.
In fact, various branches of the grass-roots movement vow to reassert themselves on the local and nation levels as Congress begins talks aimed at averting the "fiscal cliff." They say their call for limited government is more relevant than ever before.
"As far as the tea party is concerned, we are still here," said Amy Kremer, leader of the Tea Party Express. "We may not be out on the streets with the colorful signs like 2010, but we are here, we are engaged and we are going to continue to fight. We never thought this was a short-term process. It is going to take a long time to turn it around."
Judson Phillips, head of Tea Party Nation, said the tea party's first order of business is to rebut Republicans who want to blame the movement for their poor performance at the ballot box.
"They went well out of their way to ignore us, marginalize us and pretend we did not exist, and they gave us the most liberal nominee in the history of the Republican Party," Mr. Phillips said, taking particular aim at Karl Rove, the mastermind behind former President George W. Bush's career and founder of American Crossroads, a super PAC that spent more than $100 million in the campaign but had few successes to show for it.
Keli Carender, national coordinator for the Tea Party Patriots, also said she felt Republicans were trying to blame the tea party and that her group will put a renewed focus on local elections.
"We tried the last four years to go from the top and working with Congress," she said. "I think we have not been as successful as we like. It is an impermeable steel bubble. We are really, really realizing that in order to have an impact it is going to have to come from the ground up — from the cities, the counties and the states."
To read more, visit: Â http://www.washingtontimes.com/news/2012/nov/22/tea-party-vows-to-stay-for-long-haul-takes-no-blam/