Team Obama works to mend fences with labor as convention begins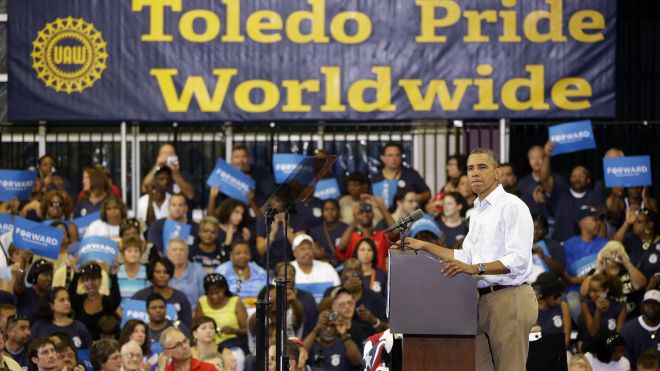 Foxnews.com
President Obama and his surrogates are working hard to repair their relationship with organized labor, as Democrats kick off their first official day of the national convention Tuesday.
Organized labor, which helped carry Obama into the presidency in 2008, has felt jilted in recent years — over the president's decision to stall the Keystone XL pipeline, the Democrats' decision to hold the 2012 convention in union-unfriendly North Carolina and other moves.
Some top union leaders are still in the Obama corner, but the president and his team are making sure to show the love as the labor movement signals it may lay low this year. The opening day line-up of speakers at the Democratic National Convention in Charlotte will feature Michelle Obama and keynoter San Antonio Mayor Julian Castro — the unions, though, are not playing a central role this week.
So in a Labor Day appeal to that valuable contingent, President Obama on Monday traveled to Toledo, Ohio — home of the GM transmissions factory and Chrysler-owned Jeep assembly plant — in an attempt to woo union members, if not leaders.
"It is unions like yours that helped to forge the basic bargain of this country — the bargain that built the greatest middle class," the president told the crowd. "I'm counting on you. I'm counting on you."
He also told attendees that the cornerstones of middle-class security — including Medicare, Social Security and the 40-hour work week  — were made possible because "working people organized and mobilized."
Obama got some high-power backup in Toledo from AFL-CIO President Richard Trumka, who accused Obama's GOP rival Mitt Romney of pitting people against each other.
Vice President Biden told union workers Monday at a rally in Detroit that he and Obama have their backs, and then asked them to be critical toward Romney and running mate Rep. Paul Ryan.
"Romney and Ryan don't think that much about you guys," Biden said. "We know who built this country and we know who is going to rebuild it. It's you. Instead of vilifying you, we should be thanking you. We owe you."
The Romney campaign, though, put out a Labor Day message Monday questioning the president's commitment to America's workforce.
To read more, visit:Â http://www.foxnews.com/politics/2012/09/03/team-obama-is-working-hard-to-repair-fractured-relationship-with-unions/#ixzz25Ri1SrbS