Texas Rep. Ron Paul captures CPAC presidential preference straw poll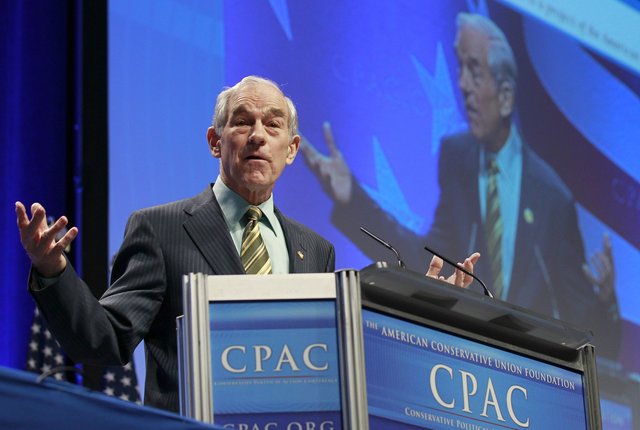 By Ralph Z. Hallow-The Washington Times
Texas Rep. Ron Paul has won the Conservative Political Action Conference (CPAC) 2012 presidential preference straw poll of 3,742 activists, the chairman of the huge annual gathering of conservative activists announced on Saturday.
The poll, sponsored this year for the first time by The Washington Times, is seen as one of the earliest tests of grassroots popularity among the party's dominant conservative wing, and Mr. Paul, who ran unsuccessfully for the nomination in 2008, has traditionally done well in the CPAC voting.
The Republican lawmaker, long a favorite of the party's libertarian wing, took 30 percent of the votes cast, followed by Massachusetts Gov. Mitt Romney with 23 percent. New Jersey Gov. Chris Christie, who has said he will not be a candidate in 2012, and New Mexico former Gov. Gary Johnson tied for third, with 6 percent of the vote.
Former GOP House Speaker Newt Gingrich followed with 5 percent.
Tied at 4 percent were Minnesota Rep. Michele Bachmann, Indiana Gov. Mitch Daniels and former Minnesota Gov. Tim Pawlenty. Trailing them was former Alaska Gov. Sarah Palin, who garnered just 3 percent of the vote.
Asked in the survey if they were generally happy with the field of GOP contenders lining up to challenge President Obama next year, 56 percent of CPAC voters said they were generally satisfied with the current crop of candidates, while 43 percent said they were not.
To read more, visit: http://www.washingtontimes.com/news/2011/feb/12/rep-ron-paul-captures-cpac-straw-poll/