Thanksnado?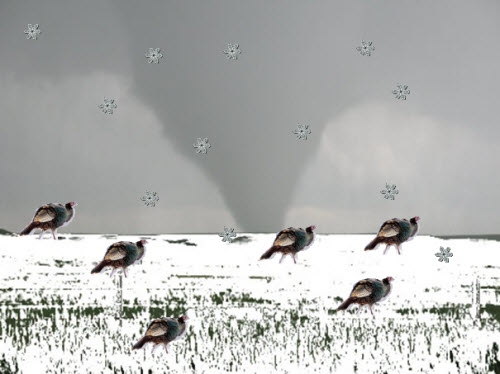 Winter Storm Boreas will bring heavy snow to parts of the Rockies and Four Corners, and spread a wintry mess into parts of the Southern Plains. Just in time for peak Thanksgiving travel, Boreas may also produce snow in parts of the Northeast starting late Tuesday. Below is a regional breakdown of what to expect.
The heaviest snowfall totals from Winter Storm Boreas will likely occur over the southern Rockies, due both to a tap of deep moisture and a slow-moving upper-level low pressure system over the Southwest.
Heavy snow, to the tune of one to two feet of total storm accumulation, will blanket the mountains of southwest Colorado, northern New Mexico, parts of northern Arizona, and southern Utah. Travel may become difficult, particularly over mountain passes in these areas.
The heaviest snow will continue through Saturday in these areas, then taper off to lighter snow Sunday into Monday.
Accumulating snow, mixed with some sleet, freezing rain or rain, at times, is also expected in valley locations of New Mexico, including Santa Fe and Albuquerque, with moderate snow accumulations expected. Higher totals are expected in the hills on the east side of Albuquerque.