The Kochs fight back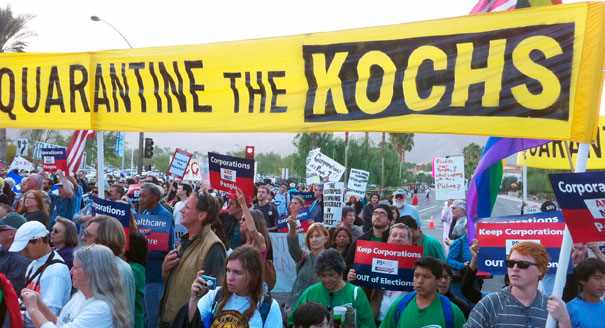 By KENNETH P. VOGEL, Politico
RANCHO MIRAGE, Calif. – Faced with an avalanche of bad publicity after years of funding conservative causes in relative anonymity, the billionaire industrialist Koch brothers, Charles and David, are fighting back.
They've hired a team of PR pros with experience working for top Republicans including Sarah Palin and Arnold Schwarzenegger to quietly engage reporters to try to shape their Koch coverage, and commissioned sophisticated polling to monitor any collateral damage to the image of their company, Koch Industries.
At the same time, through their high-priced lawyers, private security detail and influential allies in conservative politics and media, the Kochs have played hard ball with critics and suspected foes.
Young environmental activists who pranked them have been hit with a lawsuit seeking more than $100,000 in damages, and the leak of an internal document describing their political activities resulted in an investigation – complete with document analysis and interviews of suspects – that eventually identified the mole.
Both their new openness and their aggressive – and sometimes secretive – tactics were on display before and during the Kochs' closed-door, invitation-only four-day annual winter meeting of conservative donors and leaders that concluded Tuesday with a breakfast at the pricey resort that hosted it here in the Palm Springs suburbs.
On the one hand, the Kochs asked a handful of participants to talk to POLITICO about the conference, marking the first time the company has waived the strict confidentiality rules surrounding its donor meetings, which have been taking place twice a year since 2003, but had attracted almost no attention until this year's.
"You know why they're being scrutinized, don't you?" asked Herman Cain, a former pizza company CEO and long-shot 2012 GOP presidential candidate who has attended four Koch conferences, including the one that concluded today.
"Because they're not liberal. That's all that's about," said Cain.
And, in another shift, Koch's PR representatives reached out to reporters, largely in response to a raucous rally outside the resort gates that vilified the Kochs as personifying a corrupt political system – and that resulted in the arrests of 25 proteste rs.
On the other hand, the Kochs retained a heavy private security detail, which tracked resort guests deemed "suspicious," erected a blockade Saturday to block a documentary camera crew from filming arriving guests, and removed a POLITICO reporter from the resort café under threat of arrest.
The pushback began in earnest last summer, when the brothers, longtime supporters of libertarian think tanks, started coming under intense scrutiny for their role in helping start and fund some of the deepest-pocketed groups involved in organizing the tea party movement, and for steering cash towards efforts to target President Barack Obama, his health care overhaul, and congressional Democrats in the run-up to the 2010 election.
Democrats – led by Obama, his political adviser David Axelrod and Rep. Chris Van Hollen (D-Md.) – singled out political spending by non-profit groups funded by the Koch brothers, namely Americans for Prosperity, as a campaign issue.
In media appearances, Van Hollen even spelled out the previously little-known brothers' last name, saying on Al Hunt's Bloomberg News television show that "Americans for Prosperity which are the Koch Industries, k-o-c-h (are) like the third wealthiest people in the country," while in a background conference call with reporters a senior administration official suggested Koch Industries might be avoiding corporate taxes – prompting outrage from the Kochs' allies and calls for an investigation from GOP Senators, who contended the White House may have illegally accessed the company's tax information.
To read more, visit:Â http://www.politico.com/news/stories/0211/48624.html#ixzz1Crl8zc2h