The liberal campaign against SCOTUS conservatives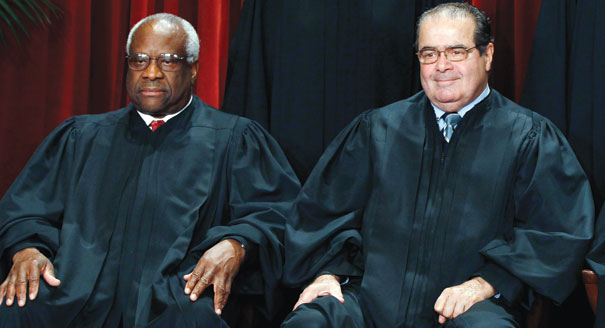 By KENNETH P. VOGEL, Politico
Still reeling from a 2010 Supreme Court ruling that opened the door to an explosion of political ads from corporate interests and fearful the court could overturn President Barack Obama's healthcare overhaul, liberal groups have launched an aggressive — and, at times, personal — attack on the court's most conservative justices.
The sharp questioning of the impartiality and ethics of Justices Clarence Thomas, Antonin Scalia and, to a lesser extent, Samuel Alito, represent the most concerted attack on a bloc of justices since the early 1970s, when conservatives waged a long campaign against the liberal justices of the Warren court, most notably Justices William O. Douglas and Abe Fortas.
Thomas and Scalia have been accused of undermining public confidence in the court by engaging in partisan politics and making decisions that could benefit the political and financial interests of family members and associates. And liberal groups have called on the Justice Department to investigate whether the two justices' alleged conflicts of interest should have disqualified them from voting in the 2010 decision on political spending, Citizens United vs. Federal Election Commission. One low-profile liberal watchdog group last week asked the Missouri Supreme Court to disbar Thomas. Alito has been criticized for speaking at fundraising events for conservative groups opposed to Obama's agenda. Only Chief Justice John Roberts, the fourth staunch conservative on the court, has been relatively immune from the same kind of criticism.
For liberals, the disposition — and, to some extent, the public perception — of the court is of looming concern as key aspects of Obama's ambitious domestic agenda appear to be on a collision course with the Supreme Court's conservative bloc, which has been able to lure swing Justice Anthony Kennedy on key cases, including Citizens United. Obama's surprisingly blunt criticism of the majority's decision in that case during his 2010 State of the Union address seemed to set the tone for the scrutiny that followed.
"What we're seeing is that there is major concern among liberals that the four died-in-the-wool conservatives on the court — with Justice Kennedy, when they're able to bring him on board — are now in a period of real activism," said Noah Feldman, a Harvard law professor and author of a book about the sometimes heated battles surrounding the jurisprudence of the liberal justices appointed to the Supreme Court by former President Franklin D. Roosevelt.
"In this [modern] context, it's not so surprising that attacks on the justices would veer from the purely ideological into attempts to delegitimize the justices personally, to some extent," said Feldman, who clerked for retired liberal Justice David Souter but nonetheless drew fire from the left for a February New York Times op-ed in which he argued that the political engagement of Thomas and Scalia pales in comparison to their predecessors and could, in fact, help better inform their decisions.
To read more, visit:Â http://www.politico.com/news/stories/0311/50757.html#ixzz1G0vOfL3j