The Sublime Weirdness of the Annual Turkey Pardon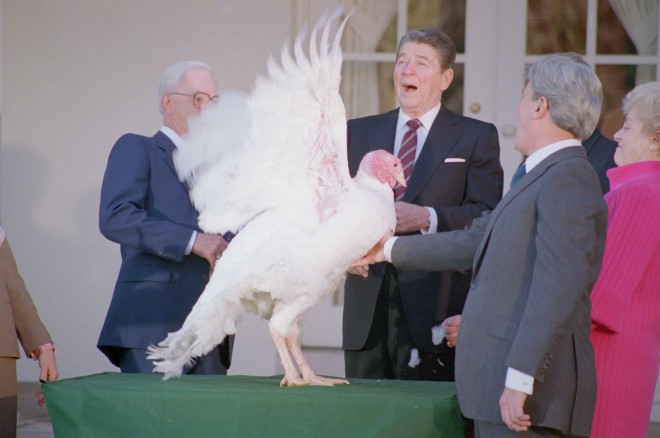 The responsibilities of being president are many, but few are as incongruous with the gravity of the job as the yearly blessing of a wide-breasted white turkey, scoring them a pass from the chopping block. Normally seen in pictures posing with the most influential individuals in the world, come November our nation's esteemed leader is patting the knobby, bobbing head of a confused bird.
The tradition's origins are, like most things, shrouded in a vast government conspiracy to hide the truth. Some rumors claim the tradition started as far back as Lincoln, when his son Tad implored him to write out a presidential pardon for the Christmas turkey. In 1873, during Grant's presidency, a Rhode Island man named Horace Vose began the tradition of presenting the president with a stand-out turkey for his Thanksgiving feast, though these usually still ended up on the dinner table.
In 1947 the National Turkey Federation took over the annual presentation under Truman, and in 1963, with the words "We'll just let this one grow," President Kennedy spared the life of a bird presented to him with a sign around its neck reading "Good Eating, Mr. President!" It was pure photo-op gold and each future president has since clamored to pose with the funny looking fowl.
The yearly ritual of pardoning turkeys didn't "officially" begin until 1989 under George H.W. Bush's first Thanksgiving as President. Each year since, a single lucky bird has been forgiven by the leader of the free world for the sin of being born hideous and delicious. The crowd-pleasing event has even trickled down to state Governor ceremonies, which make for some of the most entertaining photos in the gallery above.