Third parties work for their candidates inclusion in 2016 debates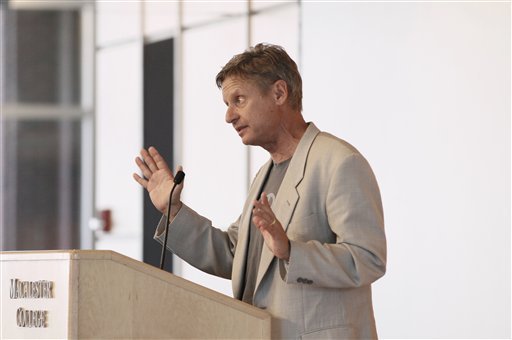 By Stephen Dinan-The Washington Times
DENVER — Third-party presidential candidates always have tried to crash presidential debates, but now there's a bigger movement trying to break the two main political parties' monopoly on the debates themselves.
One group, working with former repeat-presidential candidate Ralph Nader, is trying to get cities across the country to demand to host debates, much like what happens in the party primaries.
Yet another organization, calling itself Open Debates, has formed a citizens commission it says would be more fair than the official Commission on Presidential Debates, which is a project of the Republican and Democratic parties and is organizing this year's three presidential and one vice presidential debates.
Both say their goal is to open the process to more candidates and more issues.
"Success would be each community deciding the form of its own debate," said Greg Kafoury, an Oregon-based lawyer who is working with Mr. Nader and trying to rally his own state to push to hold a debate. "Some might just want the two [main candidates], some might want three or four. Let the communities decide who's going to be asking the questions. For example, how about some trial lawyers who know how to ask questions, instead of celebrity journalists?"
All sides acknowledge they can't change things in time for 2012 — the first debate between President Obama and Republican nominee Mitt Romney is Wednesday — but the groups say 2016 is a real possibility.
The modern debate system emerged more than two decades ago, in 1988, after the League of Women Voters abruptly canceled its sponsorship.
In a bombshell press release that October, the league said the two presidential campaigns had gotten out of hand with their demands — detailed, according to the league, in a 16-page document negotiated between them and presented to the league as a take-it-or-leave-it proposition.
The league didn't respond to requests from The Washington Times for comment, but two decades later its prediction of debates "devoid of substance, spontaneity and honest answers to tough questions" has come true in the eyes of many voters under the Commission on Presidential Debates.
Now under pressure from third-party candidates' supporters, three of the commission's 10 national sponsors have withdrawn their support: Philips Electronics North America Corp., Young Women's Christian Association USA, and the advertising firm Bartle Bogle Hegarty New York.
"As a nonpartisan organization dedicated to eliminating racism, empowering women and promoting peace, justice, freedom and dignity for all, we have decided to withdraw our sponsorship effective immediately," said Dara Richardson-Heron, the YWCA's CEO, in a letter to Libertarian Party supporters who were protesting the commission's exclusion of their nominee, former New Mexico Gov. Gary Johnson.
The official commission didn't respond to a request for comment about the lost support, but it has deleted their names from its official list online.
George Farrah, who runs Open Debates, said the three withdrawals are unprecedented and show support crumbling for the current closed format.
To read more, visit:Â http://www.washingtontimes.com/news/2012/oct/2/third-parties-work-for-their-candidates-inclusion-/#ixzz28CX6sEpL