Trump aims to help David Young, Kim Reynolds in Iowa with ethanol boost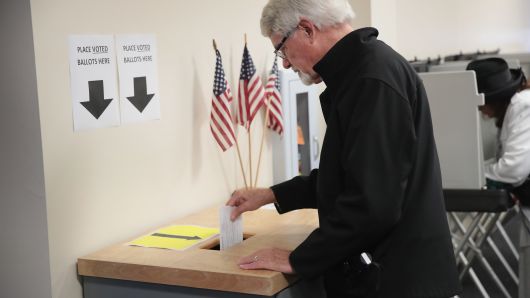 With his latest energy policy move, President Donald Trump aims in part to boost Iowa Republicans fighting to hold critical offices next month.
On Tuesday afternoon, the president ordered his administration to end a summertime ban on sales of E15, a higher ethanol blend of gasoline, Iowa Republican Sens. Chuck Grassley and Joni Ernst told reporters at the White House. The state's corn growers and the politicians who represent them have pushed for the change, arguing it will stabilize the state's farm industry amid trade uncertainty.
Trump's change could help the two vulnerable Iowa Republicans expected to join him at a Tuesday night rally: Rep. David Young and Gov. Kim Reynolds. The ethanol action could also aid Rep. Rod Blum, one of the House incumbents considered most likely to lose a seat in this year's midterm elections.
The president's policy move and the Council Bluffs, Iowa, rally come as Democrats threaten to flip 23 GOP-held House seats and take control of the chamber after the Nov. 6 elections. Republicans cannot afford to lose any House seats in the face of Democratic enthusiasm and historical struggles for a president's party in midterm elections.