Trump congratulates Barr for 'taking charge' of Stone case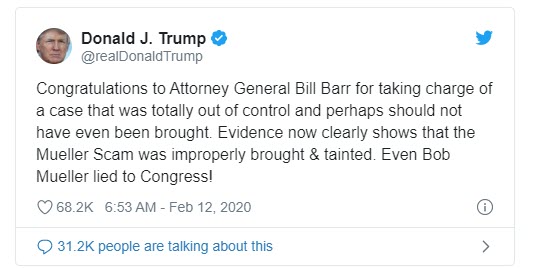 President Trump on Wednesday celebrated Attorney General William Barr for "taking charge" of the case against Roger Stone, questioning whether the charges should have been brought against his longtime associate and friend in the first place.
"Congratulations to Attorney General Bill Barr for taking charge of a case that was totally out of control and perhaps should not have even been brought," Trump tweeted Wednesday morning.
The message came one day after leaders at the Department of Justice reduced the prison recommendation for Stone after career federal prosecutors handling his case had recommended he serve between seven and nine years in jail for lying to Congress and witness tampering.
The department told a federal judge in a filing that the earlier recommendation "does not accurately reflect the Department of Justice's position" and asked that the sentence imposed be "far less."