Trump hits Russia probe, Amazon in tweet barrage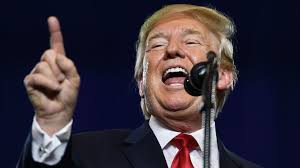 President Trump
DONALD JOHN TRUMP
Trump warns Iran's Rouhani: Threaten us 'and you will suffer'
Pompeo: Iran's leaders resemble the mafia
NYT's Haberman: Trump 'often tells the truth'
MORE
launched a barrage of tweets on Monday morning, taking aim at a series of familiar targets ranging from the news media to Amazon to the special counsel investigation into Russian meddling in the 2016 election.
In the string of tweets, Trump first targeted special counsel Robert Mueller's probe into Russia's election meddling, claiming that recently released documents related to a surveillance warrant on Carter Page, a former campaign adviser to Trump, proved that FBI officials acted improperly during the 2016 presidential race.
He called Mueller's investigation "totally conflicted and discredited" and demanded the probe be brought to an end immediately.
"So we now find out that it was indeed the unverified and Fake Dirty Dossier, that was paid for by Crooked Hillary Clinton and the DNC, that was knowingly & falsely submitted to FISA and which was responsible for starting the totally conflicted and discredited Mueller Witch Hunt!" Trump tweeted.