Trump, Pence: US will impose sanctions if Turkey doesn't release American pastor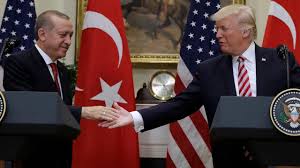 President Trump and Vice President Mike Pence warned Thursday that the U.S. would impose sanctions on Turkey if an American pastor remains detained on terror and espionage charges.
"The United States will impose large sanctions on Turkey for their long time detainment of Pastor Andrew Brunson, a great Christian, family man and wonderful human being," Trump tweeted Thursday. "He is suffering greatly. This innocent man of faith should be released immediately!"
Less than an hour earlier, Pence declared that "the United States of America will impose severe economic sanctions on Turkey" in the event that Turkey does not promptly release Brunson. He made the declaration at a religious freedom summit taking place at the State Department called the Ministerial to Advance Religious Freedom.
Brunson, a 50-year-old evangelical Christian pastor from North Carolina, was detained in 2016 after he was blamed for assisting rebels in a coup. He has denied charges that say he engaged in espionage and collusion with terrorist organizations.