Trump picks Rick Perry to lead Energy Department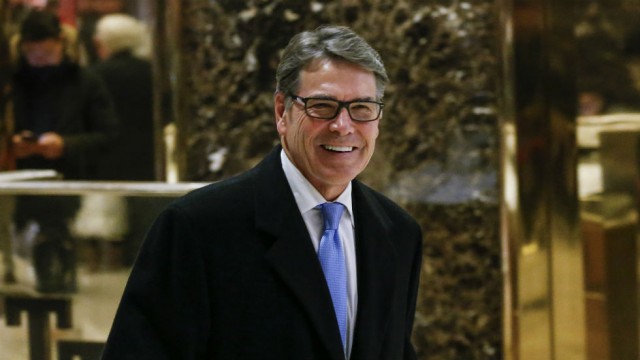 President-elect Donald Trump is planning to nominate former Texas Gov. Rick Perry (R) to lead the Department of Energy, a transition official tells The Hill.
If the Senate confirms Perry as secretary of Energy, he would oversee a department whose main missions include research on emerging energy technologies, regulating energy efficiency, managing the nation's nuclear weapons and building nuclear reactors for Navy vessels.
The Energy Department in the coming years faces numerous challenges regarding the future of nuclear energy, including whether to continue working toward a nuclear waste site at Yucca Mountain that nuclear power producers say they need in order to keep operating.
Perry would replace Ernest Moniz, a nuclear physicist who has been Energy secretary under Obama since 2013. Moniz's predecessor under Obama, Stephen Chu, was also a scientist, so Perry would break the tradition Obama set to put scientists in charge at DOE.
The former governor famously forgot the name of the Energy Department in a 2011 Republican presidential primary debate.