Trump says government can 'work with' illegal immigrants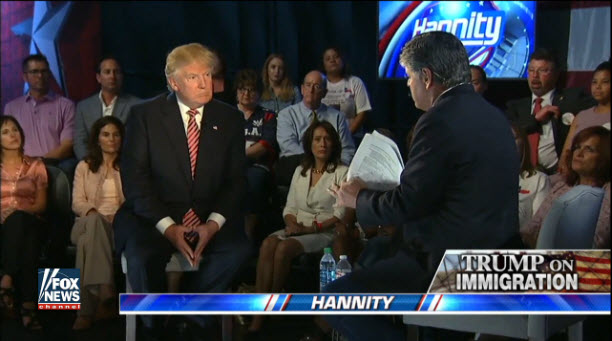 Republican presidential nominee Donald Trump continued to insist Wednesday in a "Hannity" town hall with Fox News' Sean Hannity that there will be "no amnesty" for illegal immigrants, but suggested that he would be willing to "work with them."
His remarks were the latest in a series of recent interviews where he has said he is considering softening a previous pledge made at the onset of his campaign to deport 11 million illegal immigrants in the U.S. During a "Hannity" town hall on Tuesday, Trump said he was open to "softening" laws dealing with illegal immigrants.
On Wednesday, Trump told Hannity there would be "no citizenship" for those illegal immigrants.
"Let me go a step further- they'll pay back-taxes, they have to pay taxes, there's no amnesty, as such, there's no amnesty, but we work with them," Trump said.
He also spoke of how hard it would be to deport people who have lived in the country for decades and raised a family.