Trump signs executive order to drastically cut federal regs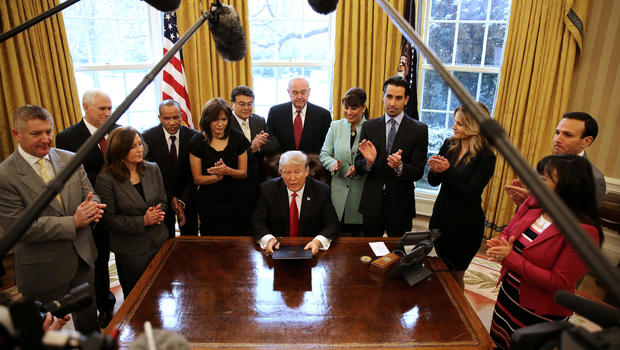 President Trump signed an executive order on Monday to drastically reduce the regulatory burden on U.S. businesses, requiring federal agencies to effectively eliminate at least two regulations for each new one issued.
"We have to knock out a regulation for every two, but it goes far beyond that. This is a big one," said Trump, in signing the order that makes good on his "one in-two out" campaign promise.
Trump has signed more than a dozen executive orders in his first 11 days in office.
The order Monday specifically states that prior regulations must be "identified for elimination" when a new rule is put forward. However, the 900-word order makes clear that the costs associated with new regulations each year cannot go up. So they would have to be offset by eliminating "costs associated with at least two prior regulations."
For fiscal 2017, Trump told agency heads that the total cost of new regulations finalized this year "shall be no greater than zero" unless otherwise directed.
"It is essential to manage the costs associated with the governmental imposition of private expenditures required to comply with federal regulations," the document also states.