Trump Slammed for Treating John Lewis Like an…Equal?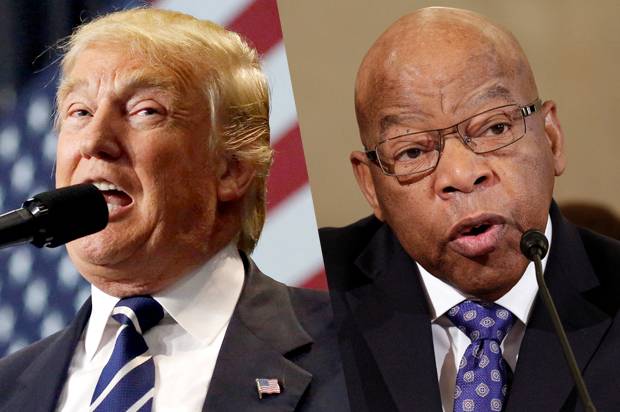 So liberal black Congressman John Lewis – who author and filmmaker Dinesh D'Souza rightly describes as a "nasty, bitter old man" who appears to have been weaned on a pickle – said something incendiary and stupid last week.
Like so many other whiny Participation Trophy Liberals, Lewis declared that duly-elected Donald Trump was not a "legitimate president."
Historically, most Republicans would have responded that the "honorable" Mr. Lewis was a civil rights "icon" and given him a pass.  Most Republicans would have been scared to death to challenge such a black leader no matter how ridiculous or outrageous his statement.
But Trump ain't most Republicans.  And unlike most Republicans, when you take a swing at him he swings back.  He doesn't start these fights, but he doesn't back down from them either.  Which he demonstrated last Saturday by tweeting…
"Congressman John Lewis should finally focus on the burning and crime infested inner-cities of the U.S."
Bingo!  It's about time somebody stood up to these race-hustling bullies and called them out.
But here's the thing that really struck me about the whirlwind of righteous indignation that oozed from the left and remaining small band of hard-core "Never Trump" Republicans…
Apparently because he's a veteran of the civil rights movement in the 60s, Lewis is supposed to be immune from criticism.  White people aren't allowed to give him a dose of his own medicine because…well, because he's black.
But isn't that exactly the OPPOSITE of what Lewis and others fought for?  Shouldn't we treat him with the same scorn and ridicule we'd heap upon a white person for saying something so stupid?  Isn't that what equal rights is all about?
Thank you, PRESIDENT Trump, for treating Mr. Lewis with equality.