Trump to release results of physical, calls candidate health 'an issue' after Clinton incident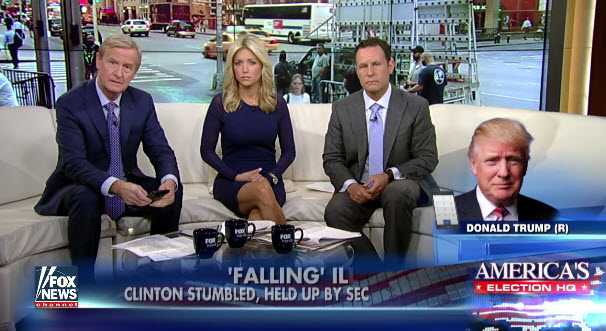 Donald Trump told Fox News on Monday he plans to release "very, very specific" details from a recent physical, as he declared candidate health "an issue" in this campaign following a medical episode that forced Hillary Clinton to abruptly leave a 9/11 anniversary ceremony on Sunday.
"Something's going on, but I just hope she gets well and gets back on the trail," Trump told Fox News' "Fox & Friends."
Clinton earlier canceled plans to visit California on Monday and Tuesday, and will instead rest at her home in Chappaqua, N.Y. After the Democratic presidential nominee was seen stumbling on her way to her van as she left Sunday's event, her doctor revealed she had been diagnosed with pneumonia on Friday. Her doctor also said the candidate had become "overheated and dehydrated" at Sunday's ceremony, but is "recovering nicely."
The incident fueled questions about Clinton's health. Trump on Monday brushed aside any speculation that Clinton might be replaced as the Democratic nominee, but said of the candidate's health: "I think it's an issue."
Trump said he had a physical last week and plans to release the "numbers" when he gets them.