Trump trashes Obama's 'imperial' presidency, dismantles legally dubious executive orders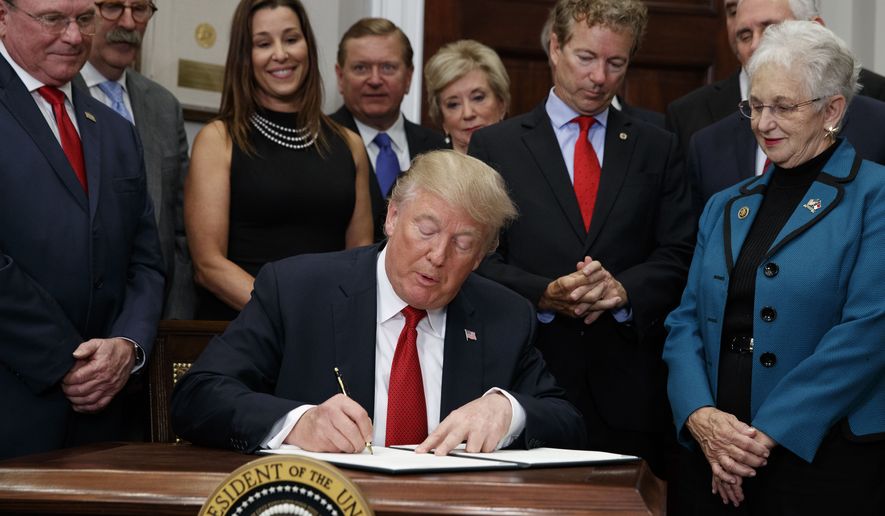 Democrats are attacking President Trump for "dismantling" President Obama's legacy on everything from Obamacare subsidies to immigration amnesty, but nobody knew better than Mr. Obama how vulnerable his go-it-alone agenda would be if Mr. Trump won the election.
Unable to work with a Republican-led Congress for most of his presidency, Mr. Obama did what he could with his presidential "pen and phone," issuing executive orders, rules and regulations that in many cases could be overturned by another stroke of the pen — this time by a Republican president. Long before Mr. Obama left office, Republicans were accusing him of overreaching presidential authority, and Mr. Trump was vowing to overturn his unilateral decisions.
At a Clinton campaign rally in Cleveland in October 2016, a few weeks before Election Day, Mr. Obama tried to fire up Democratic voters with a plea that his legacy was hanging in the balance on issues such as climate change and health care.
"I'm here to tell you that all that progress goes out the window if we don't make the right choice right now," Mr. Obama said at the time. "Donald Trump's closing argument is 'What do you have to lose?' The answer is: Everything. All the progress we've made right now is on the ballot."