TV Crew Covering President Hawaiian Vacation Claims Mistreatment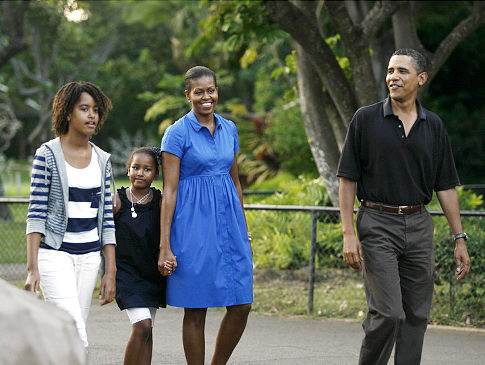 By Daryl Huff KITV 4 News Reporter
HONOLULU — A public access television crew complained of police mistreatment Thursday, after trying to get a picture of President Barrack Obama.
Just after dawn Wednesday, the three-woman crew for a Big Island public access program called "We Are Change Hawaii" drove up to the barricade near the president's vacation home in Kailua.
Host R.J. Hampton was told they couldn't stay, so she spoke into the video camera as she returned to the car.
"OK, you know it Obama we're OK with you, you OK with us," Hampton said on the tape, provided to KITV. "We just wanted to get a glimpse of you but we're moving on because this is a private street and we don't want to make anybody nervous. Aloha!" She waved to the Secret Service agents at the barricade as she climbed back into the car.
The crew was video-taping vehicle searches along the potential motorcade route as they left the neighborhood. They noticed a van behind them.
At this point, journalist Sherri Kane looked into the camera and said, "Behind us we have the Secret Service following us now so this is kind of exciting."
To read more, visit: TV Crew Covering President Hawaiian Vacation Claims Mistreatment