U.S. Troops Honor Fallen in Ceremonies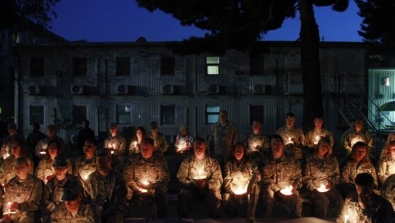 By Associated Press, FOXNews.com
KABUL, Afghanistan – U.S. troops fighting in Afghanistan paused Monday to remember the fallen in Memorial Day services, as a war nearly a decade old trudges on.
Some prayed and held flag-raising ceremonies at dawn to recognize the more than 1,400 killed in combat here since the Sept. 11, 2001 attacks that triggered the war.
"We reflect on those who have gone before us. We reflect on their service and their sacrifice on behalf of our great nation," said Brig. Gen. Lewis A. Craparotta, who commands a Marine division in Afghanistan's southern Helmand province. "We should also remember those serving today who embody that same commitment of service and sacrifice. They are committed to something greater than themselves and they muster the physical and moral courage to accomplish extraordinary feats in battle."
In Iraq, an estimated 46,000 U.S. troops remain stationed there though officials say combat operations are over in a nation that saw more than 4,400 American troops die in combat. Under an agreement between Washington and Baghdad, the troops still in Iraq must leave by Dec. 31.
Black Hawk helicopters churned through the night sky Sunday as a strong wind coming over Kabul's surrounding mountains blew against the flickering candles that cast an orange glow on those gathered for a remembrance ceremony at the U.S. Army Corps of Engineers' headquarters.
To read more, visit: Â http://www.foxnews.com/world/2011/05/30/memorial-day-comes-troops-continue-fight-afghanistan/