USA has record $61.6 TRILLION in unfunded obligations; $534,000 per household…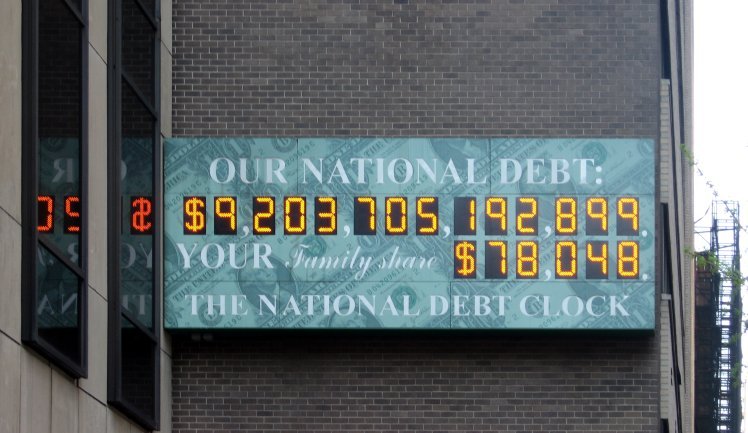 By Emily Kaiser
(Reuters) – Allowing a brief U.S. debt default to force government spending cuts is a "horrible idea" that could destabilize the world economy and sour already tense relations with big creditors like China, government officials and investors said on Wednesday.
A growing number of Republican lawmakers think a technical debt default might be a price worth paying if it gets the White House to accept deep spending cuts. This idea, once confined to the party's fringe, is seeping into the mainstream, Reuters reported on Tuesday.
"How can the U.S. be allowed to default?" said an official at India's central bank. "We don't think this is a possibility because this could then create huge panic globally."
Indian officials say they have little choice but to buy U.S. Treasury debt because it is still among the world's safest and most liquid investments. It held $39.8 billion in U.S. Treasuries as of March, according to U.S. data.
The Congress has balked at increasing a statutory limit on government spending as lawmakers argue over how to curb a deficit which is projected to reach $1.4 trillion this fiscal year. The Treasury Department has said it will run out of borrowing room by August 2.
If Washington cannot make interest payments on its debt, the Obama administration has warned of "catastrophic" consequences that could push the still-fragile economy back into recession.
"It has dire implications for the economy at a time when the macro data is softening," said Ben Westmore, a commodities economist at National Australia Bank.
"It's just a horrible idea," he said.
'WOULDN'T HAPPEN'
The Republicans' theory is that bondholders would accept a brief delay in interest payments — maybe a couple of days — if it meant Washington finally addressed its long-term fiscal problems, putting the country in a stronger position to meet its debt obligations later on.
But interviews with government officials and investors show they consider a default such a grim — and remote — possibility that it was nearly impossible to imagine.
"It just wouldn't happen," said Barry Evans, who oversees $83 billion in fixed income assets at Manulife Asset Management. "They would pay their Treasury bills first instead of other bills. It's as simple as that."
As for China, Washington's largest foreign creditor with $1.14 trillion in Treasuries as of March, a default could fray already strained political and economic ties.
To read more, visit:Â http://www.reuters.com/article/2011/06/08/us-usa-debt-bondholders-idUSTRE75718320110608?feedType=RSS&feedName=topNews