WATCH: Obama Scold's CBS's Major Garrett for Question About US Hostages in Iran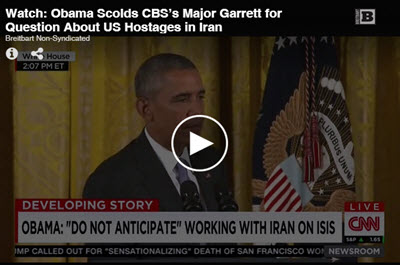 During a Wednesday press conference to promote the Iranian nuclear deal he had announced a day earlier, President Barack Obama fielded a question from CBS White House correspondent Major Garrett regarding the four Americans held captive in Iran and why he didn't seek their release during these negotiations.
Exchange as follows:
GARRETT: Thank you, Mr. President. As you well know, there are four Americans in Iran — three held on trumped-up charges and according to your administration and one whereabouts unknown. Can you tell the country, sir, why you are content with all the fanfare around this deal to leave the conscious of this nation, the strength of this nation unaccounted for in relation to these four Americans? And last week the chairman of the Joint Chiefs of Staff said under no circumstances should there be any relief for Iran in terms of ballistic missiles or conventional weapons. It is perceived that that was a last-minute capitulation in these negotiations. Many in the Pentagon feel you've left the Joint Chiefs of Staff hung out to dry. Would you comment?