Why couldn't Rep. Bobby Rush wear hoodie on House floor?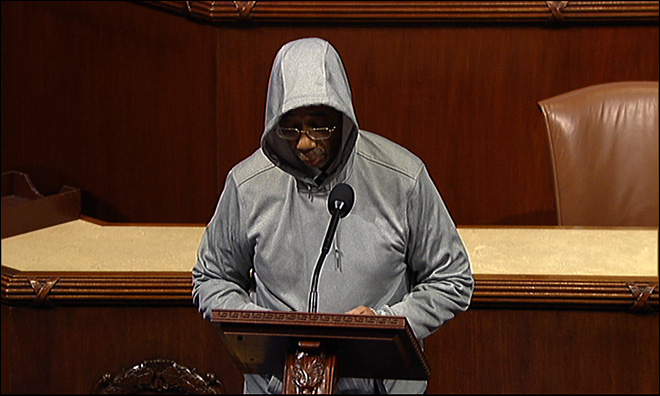 By Peter Grier, Christian Science Monitor
Hoodies on the House floor are verboten, apparently. Rep. Bobby Rush (D) of Illinois was scolded and escorted from the chamber of the House of Representatives on Wednesday morning, when he attempted to give a speech on the need for a full investigation of the Trayvon Martin shooting while wearing sunglasses and a gray hooded sweat shirt.
"Racial profiling has to stop, Mr. Speaker," said Representative Rush while doffing his suit jacket to reveal his hoodie garb. "Just because someone wears a hoodie does not make them a hoodlum."
Rush continued to speak while the presiding officer, Rep. Gregg Harper (R) of Mississippi, banged the gavel, ordering him to desist. Eventually someone from the office of the House sergeant-at-arms appeared and escorted Rush, hoodie and all, off the floor.
The reason for the uproar is that Congress has a dress code. Men are expected to wear coats and ties, and women to wear correspondingly serious clothing. Under House Rule XVII, Section 5, hats are prohibited, and a hoodie is unquestionably a head covering.
"The Sergeant-at-Arms is charged with the strict enforcement of this clause," concludes that section.
Senior Democrats played down the kerfuffle. Minority leader Nancy Pelosi noted that when she first came to Congress, women were prohibited from wearing pants on the floor. But really, why should the House be such a stickler on items of dress? In the 1830s and 1840s – admittedly, a much more heated era in US history – many lawmakers carried weapons, and violence was not uncommon. In some Asian legislatures today, debates can end in fistfights.
The reason for the rules on decorum may be that civility stands on a slippery slope.
To read more, visit:Â http://www.csmonitor.com/USA/Politics/The-Vote/2012/0328/Why-couldn-t-Rep.-Bobby-Rush-wear-hoodie-on-House-floor