Why the Donald still matters in prez race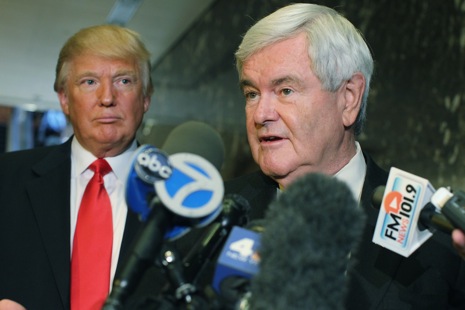 By Raakhee Mirchandani  |   Boston Herald
The Donald isn't done with this presidential primary yet.
But it's not exactly about him this time. Yesterday morning, it was about GOP front-runners Newt Gingrich and Mitt Romney. Donald Trump had just met Gingrich in New York when he took a call from the Herald.
"Newt's been a rocket ship for the past couple of weeks," Trump said.
Trump likes anything that is trending upward, especially if it is someone who might beat President Obama. But don't expect Trump to launch a Gingrich endorsement anytime soon. First off, Trump is moderating a Newsmax.com/ION TV debate Dec. 27 in Iowa. And Trump added, he likes Romney, too. And though recent polls put Newt on top of Romney nationally and in Iowa, Trump said he doesn't think the Republican Party can go wrong with either.
"Well, I like both of them very much. Mitt is a friend of mine and Newt is a friend of mine. They're very different in a lot of ways," Trump said. "It's surprising a little bit that Mitt doesn't gain more, as he will be the first to tell you."
And, if everything blows up, Trump also isn't ruling out the idea of a last-minute third-party candidate. Which could even be … himself.
"There is a possibility, you know," Trump said. He added, "I'm going to be endorsing somebody, hopefully it'll be the right person."
He's also buddies with some of the other candidates, which along with his bullish, brazen, no-nonsense reality TV style should make for fun viewing when he moderates his pals ahead of the Iowa caucuses. Because it's impossible to imagine Trump hosting even a presidential debate without figuring out some way to make it about himself.
The impressively coiffed real estate mogul is equal parts reality TV star and money-making genius. And according to his new book, "Time To Get Tough: Making America No. 1 Again," he's worth $7 billion in assets, with $300 million in ready cash.
But back to the debate. Trump says it will focus on important but thus-far largely neglected issues, matters he says he understands very well.
"Well, I think we're going to talk about outside forces and what the world is doing to us, including OPEC and China and other countries and I think that's important because they're stealing our wealth," Trump said.
"And we'll talk about other things that haven't been talked about so much. But we will be talking about lots of different things, some of which have not been discussed and are very important," Trump added.
Unfortunately, before he could elaborate on what exactly all those important issues are, time was up.