Wisconsin recall: A test for Obama's reelection bid?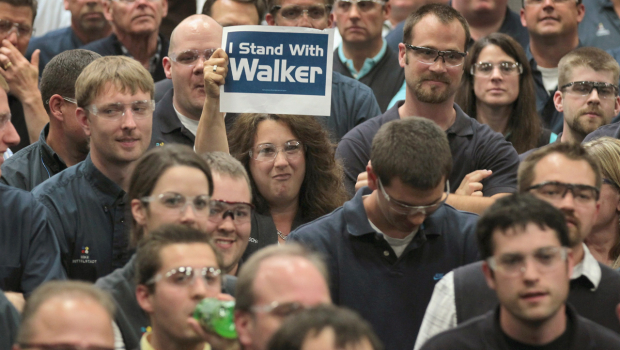 (AP) WASHINGTON – The strength of President Barack Obama's bid for a second term faces a key test Tuesday in a Wisconsin election to decide whether the Republican governor of the Midwestern state, a hero of the deeply conservative tea-party movement, should be ousted more than 2 years early.
The recall election marks just the third time in U.S. history that a state governor has been challenged midterm. What's more, Wisconsin is a key swing state in the November presidential election. It is seen as leaning toward Obama, but Tuesday's vote could show an inclination to flip toward Republican challenger Mitt Romney.
Beyond that, the political divisions gripping the Wisconsin electorate virtually mirror sentiments nationwide.
The effort to unseat Gov. Scott Walker is rooted in Wisconsin's labor union movement and the Democratic rank-and-file, both profoundly angered over his budget-cutting policies. If Walker successfully defends his leadership, it would be a major boost for already highly motivated tea party voters, who want smaller government, lower deficits and tax cuts.
With the economy the top issue in the presidential election, a victory for Wisconsin conservatives would underscore Romney's strength nationwide. He has endorsed budget-slashing, tax-cutting tea party fiscal plans at the national level.
Most polls show Walker with a slight advantage over Democratic challenger Tom Barrett, a former member of the U.S. Congress and Walker's opponent in the 2010 governor's race. Defending Walker has become a major cause for national Republicans and outside interests who back his pro-business, anti-union positions.
Walker said Monday he expects a close race and he's focused on turning out voters who supported his efforts to take on public-employee unions.
"We want to move on and move forward," he said.
Barrett, currently the Milwaukee mayor, has found support from top Democratic political figures, including former President Bill Clinton and party chairwoman Debbie Wasserman. Obama, however, has not intervened on his behalf, perhaps not wanting to chance being directly associated with what might be a losing effort with five months remaining before the presidential election.
White House press secretary Jeff Carney was asked during a briefing Monday why Obama wasn't campaigning for Barrett.
"The president supports him, stands by him," Carney said, adding that Obama hopes Barrett prevails.
To read more, visit:Â http://www.cbsnews.com/8301-250_162-57447116/wisconsin-recall-a-test-for-obamas-reelection-bid/