Wisconsin recall vote to resonate in presidential race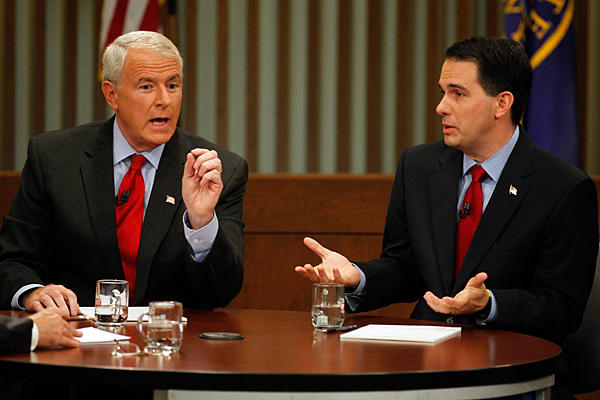 LA CROSSE, Wisconsin (Reuters) – The battle over whether to recall Wisconsin's Republican governor, Scott Walker, has sharply divided the state and become a nationally watched test of his party's push to limit government, slash spending and challenge public-sector labor unions.
Tuesday's recall vote also has the attention of two very interested outsiders: Democratic President Barack Obama and Republican Mitt Romney, who are gearing up for their November 6 showdown for the White House.
Whatever happens when Wisconsin voters decide whether Walker should be replaced by Democrat Tom Barrett, the repercussions promise to echo deep into the presidential campaign.
At a time when national polls show Obama and Romney in a virtual tie, both sides see the wrangling in Wisconsin as a chance to organize and gain early momentum in a politically divided state that could be crucial in determining who wins the presidency.
The recall battle has raged for months, sparked by Walker's elimination last year of most collective bargaining rights for public-sector unions. That led to huge street protests in Madison, the state capital, and to the recall effort that will culminate in Tuesday's vote.
Walker's national supporters see the recall as a referendum on his take-no-prisoners brand of fiscal conservatism, and both sides in the presidential race plan to scour Tuesday's results to gauge the mood of the electorate heading into November's bigger battles.
"The vote here will definitely be seen as a harbinger of things to come," said Wisconsin-based Republican consultant Mark Graul. "The winning side will have tremendous momentum, and there will be implications far beyond Wisconsin."
To read more, visit:Â http://news.yahoo.com/wisconsin-recall-vote-resonate-presidential-race-171534972.html