With $114 million, Obama just outraises Romney in August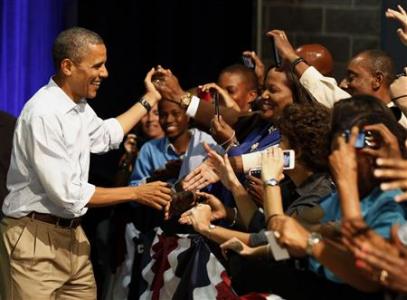 By Jeff Mason and Sam Youngman, Reuters
WASHINGTON/BOSTON | President Barack Obama's campaign and its Democratic partners raised more than $114 million in August, narrowly beating Republican rival Mitt Romney for the first time in months as the race for the White House approaches its final stretch.
Former Massachusetts governor Romney and fellow Republicans raised more than $111 million, continuing a string of high-dollar hauls that leave him well equipped to contest the November 6 election.
While Obama shattered every fundraising record in 2008 after becoming the first presidential candidate to opt out of a federal matching funds system, Romney has outpaced him significantly on the fundraising front since April.
That has added to a cash advantage on the Republican side that is helped by the success of outside groups, or Super PACs, that have spent lavishly in support of the Republican candidate with unlimited funds from millionaire donors.
In July the Obama campaign raised $75 million to Romney's $101 million. That discrepancy shifted in August.
The Democratic incumbent broadened his donor base last month with more than 317,000 donors who had never given money before, Obama campaign manager Jim Messina said in a statement. More than 1.1 million donors in total gave to the Obama cause.
To read more, visit: Â http://www.reuters.com/article/2012/09/10/us-usa-campaign-fundraising-idUSBRE88905F20120910