With new momentum, Romney accuses Obama of hiding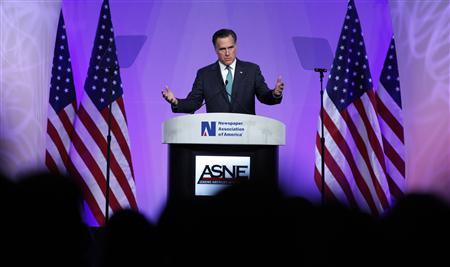 (Reuters) – Republican candidate Mitt Romney accused President Barack Obama on Wednesday of being "intent on hiding" his true positions, in a growing war of words between the two men who are increasingly likely to face off in November's presidential election.
Romney slammed Obama a day after winning three presidential primaries and moving closer to finally clinching the Republican nomination.
The former Massachusetts governor cited remarks by Obama to Russian President Dmitry Medvedev last week that embarrassed the U.S. president when they were caught on camera. Obama assured the Russian leader that he would have "more flexibility" to work on missile defense after the November 6 election.
"He is intent on hiding. You and I will have to do the seeking," Romney said in a speech to a conference of news executives. Romney, who is known for his stiffness on the campaign trail, seemed relaxed while giving remarks that focused exclusively on Obama rather than his Republican rivals.
Romney was speaking at the same conference where Obama attacked him on Tuesday in comments that gave a clear signal that the general election campaign is effectively under way.
Obama mentioned Romney by name, a move he had avoided before then, and criticized him for supporting a Republican budget plan that would make stark cuts in Medicare and other programs for the poor and elderly.
In a wide-ranging speech hitting Obama's record in office, Romney answered the criticisms.
To read more, visit:Â http://www.reuters.com/article/2012/04/04/us-usa-campaign-romney-obama-idUSBRE83314120120404