Marine Challenges Liberal Senator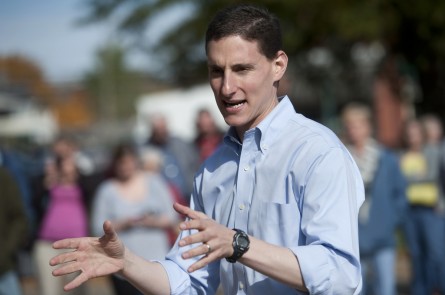 Ohio State Treasurer Josh Mandel (R-OH) has announced that he will challenge incumbent Senator Sherrod Brown (D-OH) in 2018.
This is very good news for conservatives.
Sherrod Brown is one of at least 12 vulnerable Senate Democrats up for re-election in 2018, and we could not ask for a better candidate to challenge him than Josh Mandel.
Josh Mandel is a true conservative outsider, he has widespread grassroots support throughout Ohio, and he can defeat Sherrod Brown and end the Democrats stranglehold on this seat.
Will you please join conservatives in Ohio and across the nation in supporting Josh Mandel today?
Your support will help us drain the Senate swamp!
Josh Mandel is a true conservative with an impressive record of accomplishment. He's a Marine Corps veteran who served 2 tours in Iraq, 3 years as a city councilman, 4 years as a state legislator, and is currently serving his second term as the state treasurer in Ohio.
As city councilman, Mandel led the fight for the first property tax rollback in his city's history. In the state legislature, he stood up to the teacher's unions to expand school choices for children with special needs. And as state treasurer, he has cut spending and made state government more transparent.
Time and time again, Mandel has fought for our principles, even when it meant standing up to leaders in his own party like Governor John Kasich (R-OH).
Please support Josh Mandel for Senate today!
Senator Sherrod Brown will be extremely difficult to defeat. He has nearly $3 million in the bank already and will get the full support of every liberal in the country. In fact, many Democrats hope Brown will run for President against Donald Trump in 2020.
We also believe the GOP establishment is trying to recruit their own candidate, which will make the race even more expensive.
Conservatives need to act now to quickly raise money to help Josh Mandel win the nomination and go on to defeat Sherrod Brown.
Supporting Josh Mandel against Sherrod Brown early in the 2018 election cycle is one of the best ways to keep the Democrats on defense and to completely drain the Senate swamp.
Thank you for considering this request and for supporting the principles of freedom that make America great.
Sincerely,

Ken Cuccinelli II
President, Senate Conservatives Fund
Former Attorney General of Virginia