AOC blasts GOP 'inaction' after $484B 'small potatoes' relief bill passes Senate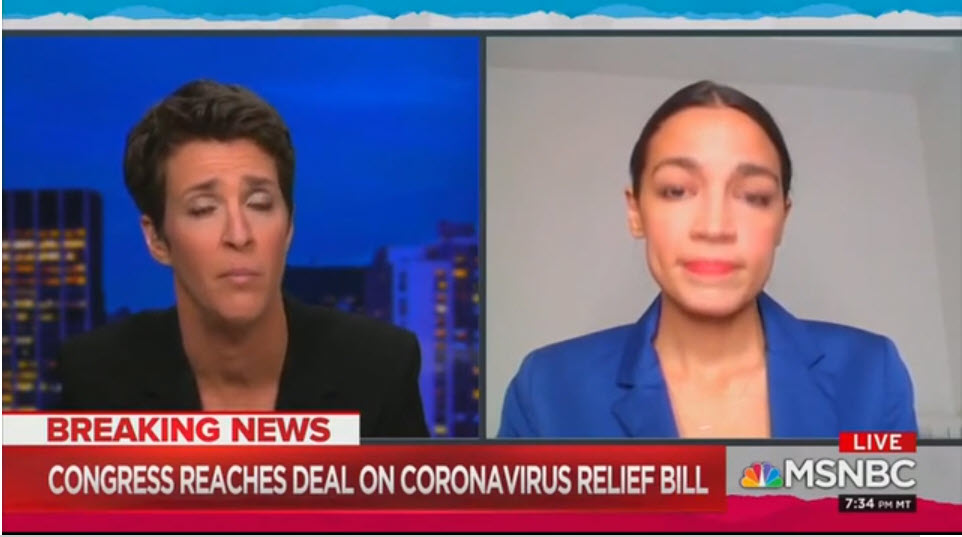 New York Rep. Alexandria Ocasio-Cortez ripped Republican lawmakers for their "inaction" after an economic relief bill worth nearly half-a-trillion-dollars passed in the Senate on Tuesday.
During a Tuesday night appearance on the Rachel Maddow Show, Ocasio-Cortez lashed out at her Republican colleagues in Congress who she accused of refusing to fund hospitals and provide nationwide testing amid the coronavirus pandemic.
"Democrats fought very, very hard for basic things like testing," Ocasio-Cortez said. "Republicans didn't want to fund hospitals. They didn't want to fund mass testing, which is what is actually going to allow us to reopen the economy. So I appreciate the strides they made in that."
Though members of Congress remain out of session until May 4 because of the coronavirus pandemic, senators passed a new round of federal spending through voice vote that is aimed at helping small businesses and hospitals.