Assange blasts media for 'politicization' of election campaign in Fox interviews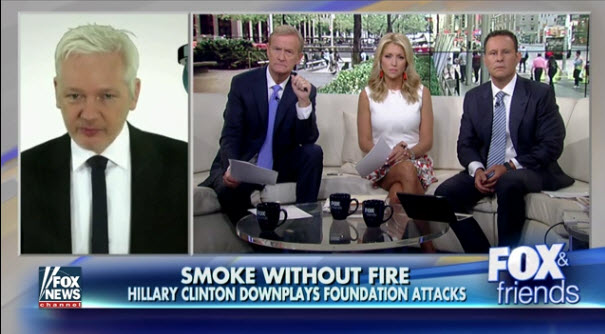 In back-to-back interviews with Fox News, Wikileaks founder Julian Assange criticized the U.S. media for "incredible politicization" in its coverage of the presidential election, and vowed there are more shoes to drop before the Nov. 8 vote.
Assange appeared Friday morning on "Fox & Friends," where he said "significant" information would be published on the site regarding Democratic nominee Hillary Clinton, but did not specify what it would be.
"I know you guys would love it if we scooped ourselves on 'Fox & Friends,' but we're not going to do that," Assange said from the Ecuadorean embassy in London, where he has lived for nearly five years as he fights extradition to Sweden where he is wanted on charges relating to sexual assault that his supporters say are politically driven.
Assange said information regarding Clinton's health is fair game, and noted that in an email already disclosed by the organization, Clinton refers to her own "cracked head." He said he had information about GOP nominee Donald Trump as well, but indicated it may not be as revelatory as critics might hope.
It is difficult "for us to publish more controversial material than what comes out of Donald Trump's mouth every day," Assange said. He also suggested Clinton and other officials have enjoyed a form of "elite immunity."