Can This Jewish Republican Outsider Change the Face of Missouri?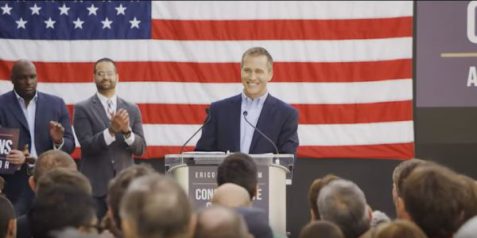 "Unbelievable. It's just unbelievable." The word "unbelievable" keeps coming up. This time I hear it from Brett Dinkins, an earnest young Missouri native. Brett is the field director for Eric Greitens, a Jewish veteran of the wars in Iraq and Afghanistan who is running for governor of Missouri. We are sitting in Brett's car talking about his boss.
Rain lashes the windshield and Brett keeps looking at his phone to check the GPS. I keep thinking of questions to ask. This is partly because I am writing a story about Greitens, but it is also because pretty much everything Brett tells me — about his background, about Missouri politics, about the 300-person town he grew up in — is new. Paradoxically, the banality of Middle America has made it exotic. I grew up in San Francisco. I am used to crazy and different and foreign. But I feel completely out of place in Missouri.
When I met with Greitens earlier in the day, I asked him about his connection to Missouri. He was born and raised in St. Louis—of course he has the same connection we all do to our home state. But I wanted to know more. What was it about Missouri that made him want to serve it as governor? What does Missouri mean to him?
He told me that he loves Missouri, and it hurts him to see the way the state is suffering. He presented some statistics: Missouri ranks 42nd in wage growth, 47th in economic growth, 50th—last—in getting people off welfare….