Citi Warns on Gold as Bank Boosts Odds of Trump Win to 40%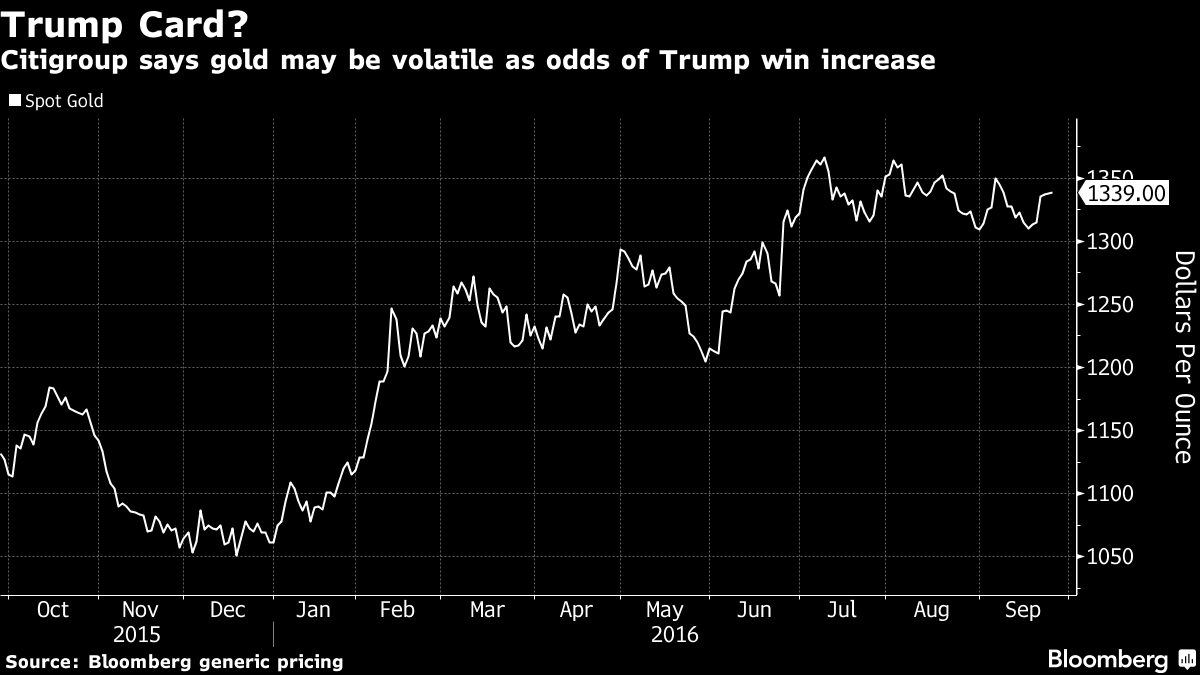 Gold may be in for a bumpy ride in the final quarter as Republican candidate Donald Trump now has a 40 percent chance of winning the presidential election and investors will be preparing for the possibility of higher U.S. interest rates, according to Citigroup Inc.
Volatility in bullion and foreign-exchange markets may increase, according to a commodities report from the bank as it raised the odds on a Trump victory over Democrat Hillary Clinton in November from 35 percent. There would probably be a single U.S. hike by year-end, it said. A Bloomberg Politics poll has Trump and Clinton deadlocked before a debate later today.
Bullion has rallied 26 percent in 2016, rebounding from three years of losses, as low or negative interest rates have bolstered demand. Political uncertainty has also played a part, with the U.K.'s vote to quit the European Union spurring haven demand. Forecasters including Singapore-based DBS Group Holdings Ltd. have said that the U.S. contest may buttress prices amid concern about the possible implications of a Trump presidency.
"Polls have started to tighten ahead of the U.S. presidential election, and Citi has raised the probability of a Trump victory," the bank said in the note. "We expect a Trump win would bring out higher volatility in gold and forex, which in turn should lead to higher volumes in other precious metals."
Gold was at $1,337.23 an ounce by 12:57 p.m. in London, with Citigroup seeing futures at $1,350 on a three-month basis and $1,270 on a six- to 12-month view. Under the bank's base case it may be at $1,320 in the final quarter, or $1,425 under the bull case, which included the possibility of a Trump win.