Colbert Heads to FEC in Ongoing Effort to Form Political Action Committee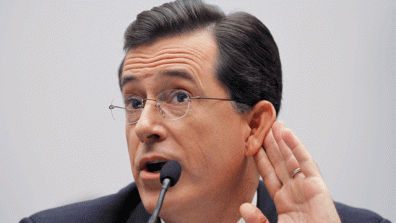 After testifying on Capitol Hill for migrant farm workers and co-hosting a rally on the National Mall last year, comedian Stephen Colbert made a grand return to Washington Friday — this time to draw attention to his effort to form a political action committee designed to "affect" the 2012 presidential election on behalf of his viewers.
"The Colbert Report" host, who mockingly poses as a conservative, is seeking a media exemption for the would-be PAC from the Federal Election Commission so he can talk about fundraising on air without it being considered an "illegal in-kind donation" by Comedy Central's parent company, Viacom.
"I want to form Colbert Super PAC for all the PAC-less Americans so they can have a voice in the form of my voice," Colbert told a crowd gathered outside the Federal Election Commission offices.
"I am sick and tired of the old boy Democratic and Republican network toadying to corporate interests," Colbert said. "What about us? Where's our money. We're willing to toady."
In a letter dated April 12 and read on the air by Colbert, a Viacom lawyer wrote, "At this point, Stephen has used enough of Viacom's resources in promoting the as-yet-unformed PAC … that the FEC would likely see as an in-kind donation from Viacom in the event the PAC is ever actually formed. That means you can't form it."
To read more, visit: Â http://www.foxnews.com/politics/2011/05/13/colbert-heads-fec-ongoing-effort-form-political-action-committee/