Deadline approaching, last push Obamacare roll back gains strength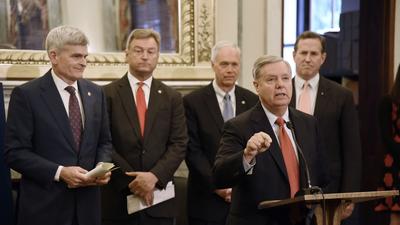 A last-ditch Republican push to roll back the Affordable Care Act appeared to pick up momentum Monday even as opposition from leading patient advocates and healthcare organizations mounted, setting the stage for another potentially dramatic Senate vote on the future of the 2010 law, often called Obamacare.
Prospects for the new repeal legislation — sponsored by Sens. Bill Cassidy (R-La.) and Lindsey Graham (R-S.C.) — remain uncertain, but the proposal won an important endorsement Monday from a key Republican governor, Arizona's Doug Ducey.
That raised the possibility that the state's senior senator, John McCain, who cast the crucial vote in July to kill the last repeal push, could back the new bill. McCain has said he would be influenced by Ducey's position, but has also called for a less partisan, less rushed approach to healthcare legislation.
On Monday afternoon, the Republican senator said he remained undecided. "I'm not supportive of the bill yet," he told reporters, explaining that he would prefer healthcare legislation go through the normal committee process.