Delegate Chaos at MO Caucus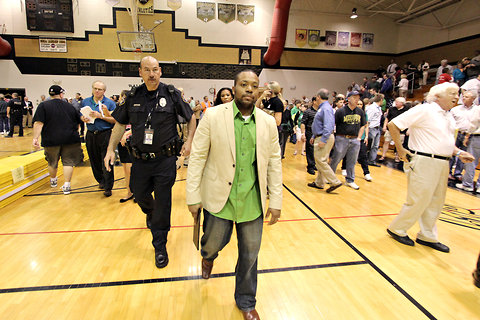 By JEFF ZELENY, The New York Times
BRUNSWICK, Mo. — Mitt Romney and his advisers pride themselves on vigorously pursuing every delegate in every corner of the country in their quest to secure the Republican presidential nomination.
That was not the case here at the Railyard Steakhouse, where Republicans convened their Chariton County caucus on Thursday evening. They voted to pledge their full share of delegates to Rick Santorum — without a word of objection from the Romney campaign.
The Republicans here were simply following the results of the February primary, which Mr. Santorum won by 30 percentage points. The Romney campaign argued that the contest was meaningless because no delegates were at stake.
Yet Mr. Santorum's victory has had a lingering effect. This became clear here in Brunswick, a small town about two hours east of Kansas City, which offered a peek into the process that will unfold across Missouri on Saturday when Republicans convene caucuses to begin the arduous process of selecting delegates in the presidential campaign.
A quirk of election law makes Missouri the only state this year to essentially allow voters to take two attempts at choosing their favorite candidate. The first came during a primary in February, which was dismissed as a beauty contest, but one that gave Mr. Santorum a boost of momentum. The second comes on Saturday.
To read more, visit: