Emmys Go Political In First Minute: Colbert's Opener Has Trump Treason, 'Confederate' Jokes — And Male Handmaids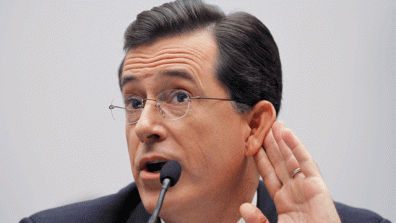 The 2017 Emmys Awards ceremony wasted no time getting political during Sunday's opening segment, as host Stephen Colbert and friends made political jokes within the very first minute — and Colbert quickly accused President Trump of treason.
The opening set the stage for perhaps the most political Emmys ever. One winner for "Saturday Night Live," Kate McKinnon, thanked Hillary Clinton. Another "SNL" winner, Alex Baldwin, mocked Trump for never winning an Emmy.
Here's a breakdown of the show's kickoff. Before his opening song, Colbert chatted with Anthony Anderson and Allison Janney, and she complained about the current state of the world.