Federal appeals court rules Trump sanctuary city order unconstitutional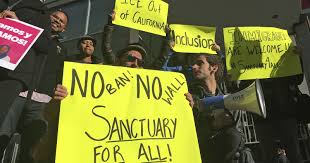 A federal appeals court ruled Wednesday that President Donald Trump exceeded his authority when he threatened to withhold funds from "sanctuary cities" that do not fully cooperate with U.S. immigration authorities.
In a 2-1 decision, the 9th Circuit Court of Appeals said Trump's January 2017 executive order, cutting off federal funds to sanctuary cities, was unconstitutional. But the court also ruled that a lower court went too far when it blocked the order nationwide.
"Absent congressional authorization, the administration may not redistribute or withhold properly appropriated funds in order to effectuate its own policy goals," Chief Judge Sidney Thomas wrote for the majority.
Justice Department spokesman Devin O'Malley said the executive order was a legal use of the president's power. He called the 9th Circuit's decision a victory for "criminal aliens in California, who can continue to commit crimes knowing that the state's leadership will protect them from federal immigration officers whose job it is to hold them accountable and remove them from the country."