Fox fight: Sean Hannity calls Megyn Kelly a Clinton supporter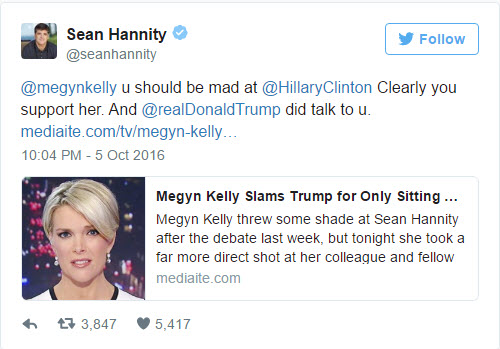 This election has sparked some heated exchanges between family, friends and co-workers — and now between Fox News hosts.
Conservative pundit Sean Hannity leveled what he might consider the worst insult imaginable at anchor Megyn Kelly in a tweet Wednesday night, which said she "clearly" supports Hillary Clinton.
The tweet was apparently in response to Kelly comments earlier in the evening on The Kelly File when she accused both presidential candidates of avoiding tough interviews.
"They're both in their own version of a presidential protection program," Kelly said. She said Clinton makes sure "she is not in a place where she feels uncomfortable or anything unexpected could come at her, which is why she sat for a half an hour with Mary J. Blige, the singer, which is why she did Entertainment Tonight this evening."
But, Kelly didn't stop there. "And Donald Trump, with all due respect to my friend at 10 o'clock, will go on Hannity, and pretty much only Hannity, and will not venture out to the unsafe spaces these days, which doesn't exactly extend the tent."