Gallup: Over 780,000 'Gay Marriages' In United States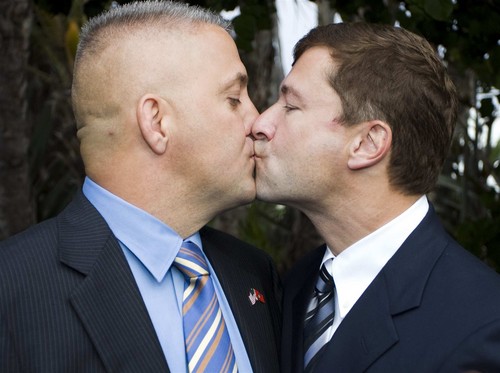 Approximately 0.3% of adults in the U.S. are married to a same-sex spouse, and another 0.5% identify as being in a same-sex domestic partnership. In examining the total population of 243 million U.S. adults, these survey estimates suggest nearly 2 million adults are part of a same-sex couple, of whom 780,000 are married.
These data are based on 80,568 interviews conducted on Gallup Daily tracking from Jan. 28-April 19, 2015, Overall, approximately 0.3% of all respondents during this time period both identified as lesbian, gay, bisexual or transgender (LGBT) and said they were married, and in a follow-up question, they indicated that they were married to a same-sex spouse. An additional 0.5% of adults identified as LGBT and reported being in a same-sex domestic partnership.
On Tuesday, April 28, the U.S. Supreme Court will hear oral arguments in a set of cases that challenge state bans on marriage for same-sex couples in Kentucky, Michigan, Ohio and Tennessee. This hearing comes two years after the court ruled that the federal Defense of Marriage Act, which prohibited the federal government from recognizing the marriages of same-sex couples, was unconstitutional.