GOP Senator: Rand Paul To The Left Of Obama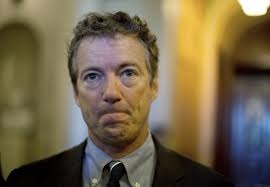 One day before Sen. Rand Paul (R-Ky.) formally announced his intention to run for president in 2016, Sen. Lindsey Graham (R-S.C.) criticized him for being "to the left of Barack Obama" on foreign policy.
"As I have said all along, I believe it is in everyone's best interest to find a peaceful way to prevent Iran from acquiring nuclear weapons," Paul said on March 3.
"As to Rand Paul, I like Rand a lot," Sen. Graham told Fox News's Greta Van Susteren on Monday. "But at the end of the day, his foreign policy is to the left of Barack Obama."
Graham noted that Rand Paul was the only senator in September 2012 to vote against Graham's resolution saying that containment would not be the policy of the United States — that the U.S. would not allow Iran to get a nuclear weapon. The resolution passed 90-1, with Paul providing the only no vote.
At the time, Paul said a vote for Graham's resolution "is a vote for the concept of preemptive war." …