Halt to Deportation of Citizen's Same-Sex Partner Draws Fire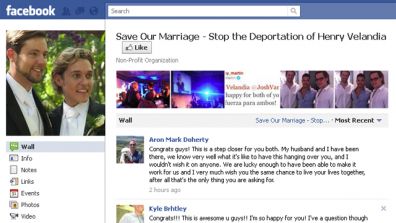 By Joshua Rhett Miller, FOXNews.com
The federal decision to stop deportation proceedings against a Venezuela-born New Jersey man who legally married his same-sex partner in the United States — effectively recognizing gay marriage — is an "abuse of executive authority" by the Obama administration, immigration experts told FoxNews.com.
Henry Velandia, a 27-year-old professional salsa dancer from Caracas now living in New Jersey, legally married U.S. citizen Josh Vandiver, 30, in Connecticut last year, but due to the Defense of Marriage Act — a 1996 federal law that defines marriage as between a man and a woman — Vandiver was not allowed to sponsor Velandia for a green card in the same way a heterosexual person could for his or her spouse. The Department of Homeland Security nevertheless decided to drop deportation efforts against him Wednesday.
Velandia told FoxNews.com that Wednesday's ruling was a "big, uplifting moment" and the product of a year's worth of hard work on behalf of the couple's attorney, Lavi Soloway.
"I can now be with Josh, my husband, in this country without fear of being torn apart," he said on Friday. "It's like our first day building up our life together. But we know the fight is not over. We're going to keep fighting for marriage equality for all the couple who are in the same situation."
To read more, visit: Â http://www.foxnews.com/politics/2011/07/01/expert-halt-deportation-citizens-same-sex-partner-abuse-authority/