If You Don't Know Tomi Lahren, You Need To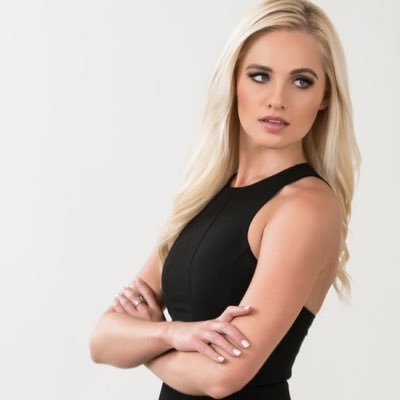 The recent shake up at Fox News left many conservatives wondering if they would lose a central component of conservative media. The stalwart Roger Ailes was forced to leave the network in July 2016 under the weight of several allegations, unfounded though they were. (Congratulations, feminazis.) Megyn Kelly, the network's star host that many pegged to replace Bill O'Reilly after talk of O'Reilly's retirement, took a deal at NBC that will likely make her the highest paid female news anchor on television today.
Although nothing is final just yet, the writing may be on the wall for Fox as the hub of modern conservatism. Que sera, sera, as Doris Day told us.
Fortunately, if it is time to move on, conservatives have a shining star that will make the move quite easy.
Although just 24 years old, Tomi Lahren made her initial foray into conservative politics as host of On Point with Tomi Lahren on The One America News Network. A native of South Dakota, coming from a family of Marines and a degree from the University of Nevada, Tomi certainly had the background to speak to the heartland of America. Her talent was immediately recognized by Robert Herring, who offered her a show on The One America News Network during her first interview with the company.
She came into the spotlight as the comely host for Tomi for Glenn Beck's TheBlaze network. She doesn't necessarily owe her name recognition to Beck. Tomi came to prominence only when she took it upon herself to post her Final Thoughts segment, her short rant on controversial political stories, to her own Facebook platform.
Conservative Facebook (and a lot of liberals, honestly) took to the firebrand blonde with the guts to say anything and the chops to actually say it well. Her abridged Facebook rant videos caught fire, routinely racking up millions of views per video in 2016. Seizing upon his new starlet's popularity, Beck quickly sent Lahren on a press run, most famously to liberal hub The Daily Show, where she trounced Trevor Noah so badly on his own platform that he felt obliged to send her cupcakes to get back in her good graces. Liberals didn't like this too much, and let Noah have it.
Liberals were absolutely incensed that Tomi had broken through, leading super snowflake Ben Cohen (co-founder of Ben and Jerry's Ice Cream) to say the following about her:
"Her appearance and youth and physical presence seems to be incongruent with who she actually is. It's not at all, of course. She is, again, a terrible f****** person."
To put it mildly, Tomi is a beast on the mic. She is also quite easy on the eyes, a lethal combination that has some experts wondering why Fox promoted Tucker Carlson after Megyn Kelly's move to NBC. Tucker is great, to be sure, but his toupee is certainly no match for the best pair of legs conservatives have seen since Julie Banderas.
More importantly, however, she is a true intellectual that speaks directly to the millennial crowd that Fox News and other conservative outlets are seeking to attract. Her points, as scathing as they may seem, are always backed in solid research and presented with a natural eye to the format. She is also incredibly quick on the draw, often creating Final Thoughts rants on events that happened just a few hours before her slot.
Tomi Lahren is a conservative to watch moving forward into 2017. We hope that she will continue making trouble for wrongheaded liberals, regardless of how many cupcakes she gets from them. We certainly need her help to push forward the conservative agenda to make this country great again into a new generation of patriots.
Source:
http://fortune.com/2016/09/02/ailes-five-things/
http://money.cnn.com/2016/07/11/media/bill-oreilly-fox-news-future/
http://www.forbes.com/sites/maddieberg/2017/01/03/megyn-kellys-move-nbc-will-likely-make-her-the-worlds-highest-paid-female-news-anchor/
http://www.thewrap.com/theblaze-glenn-beck-over-crumbling-huffington-post-report/
http://brobible.com/life/article/tomi-lahren-sent-cupcakes/
https://i.ytimg.com/vi/B_e8HzNHaoc/maxresdefault.jpg
http://www.rawstory.com/2016/12/trevor-noah-is-getting-hammered-for-sending-tomi-lahren-cupcakes-heres-his-response/
http://thedailybanter.com/2016/12/tomi-lahren-a-terrible-fcking-person/