Laura Ingraham's Fox News Show To Debut October 30; 'Hannity' Will Take On 'Maddow' At 9 PM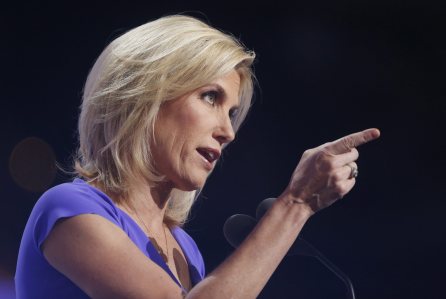 Sean Hannity is moving to 9 PM ET to take on MSNBC's Rachel Maddow directly starting next week in anticipation of Fox News Channel debuting Laura Ingraham's new show on the day before Halloween. Or, to put it another way, the cable news wars just went into full battle mode.
"We are delighted to unveil this new primetime schedule for both our current and future generation of loyal FNC fans," Suzanne Scott, president of programming for the cable newser told Deadline today. "Over the last decade, Laura's extraordinary insight, expertise and strong voice have connected with our viewers across the network's programming. We look forward to her providing the audience with her exceptional commentary, engaging insight and spirited debate."
While Tucker Carlson's 8 PM show will stay where it is, Hannity will make its move to an hour ahead on September 25. On the same day, The Five will move back to its namesake 5 PM ET slot. Before the radio host and long time Fox News contributor and sometimes stand-in host kicks off The Ingraham Angle on October 30, the 10 PM slot will be filled by various FNC hosts and contributors..
"After a decade working at Fox News with a team of television pros, I am thrilled to be joining the primetime lineup as a host of the 10 o'clock hour," Ingraham said Monday after weeks of rumors of the announcement. "Martha, Tucker and Sean have proven that they understand the pulse of America across the political and the cultural spectrum. I look forward to informing and entertaining the audience and introducing new voices to the conversation."