Liberal states move to enshrine abortion rights in fear of Supreme Court overturning Roe v. Wade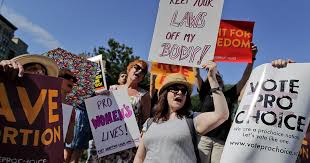 Liberal states are moving to enshrine abortion rights in fear that President Trump's Supreme Court nominee Brett Kavanaugh could be the deciding vote to overturn Roe v. Wade.
The landmark 1973 Supreme Court decision made abortion legal nationwide until fetal viability, understood at roughly 24 weeks, but a different court makeup could change this. Pro-abortion rights groups have been sounding the alarm about this possibility under Kavanaugh, who will tilt the Supreme Court to the right if confirmed to replace retiring Justice Anthony Kennedy, who had been a vote to uphold Roe.
Many states, even some liberal ones where public support for legalized abortion is high, still have laws on the books restricting abortion that predate the Roe decision. With Roe comfortably in place, there was no reason to revisit these laws — but Trump's reshaping of the Supreme Court is changing the thinking of state lawmakers.
Abortion rights advocates are using the the looming possibility that Roe v. Wade may be overturned or weakened to push states to scrap old laws restricting abortion and to pass new ones enshrining the right. Some states, particularly liberal ones including Massachusetts, Illinois, and New York, are already taking action.