McDonald's About To Go Bankrupt?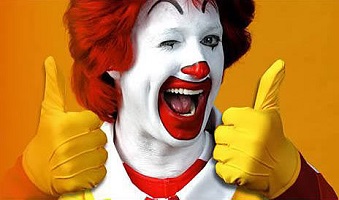 Fast-food giant McDonald's said Wednesday it would announce a turnaround plan in two weeks as sinking US sales dragged down profits again in the first quarter.
The ubiquitous burger-and-fries chain said US sales, the largest share of global income, fell 2.6 percent from a year ago for comparable outlets.
Sales in the Asia-Pacific and Middle East region dropped 8.3 percent, helping bring overall global sales down 2.3 percent, "reflecting negative guest traffic in all
segments," the company said.
Total revenue sank 11 percent to $5.96 billion in the quarter to March 31, and net income plunged 32.6 percent to $812 million, or 84 cents a share (-31 percent).