Michelle Obama Criticizes Mississippi 'Religious Freedom' Bill in Commencement Speech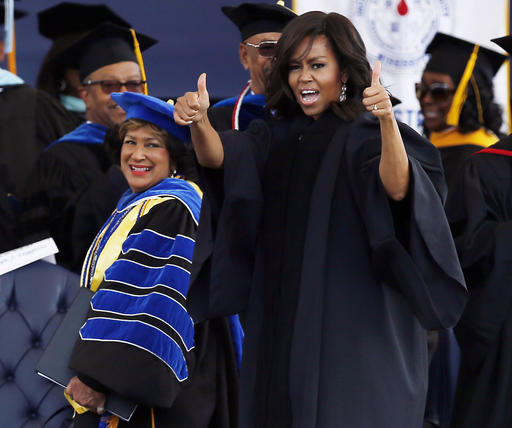 JACKSON, Miss. — First lady Michelle Obama told graduates of a historically black university in Mississippi on Saturday that "the power of voting is real and lasting" and they need to cast ballots to protect civil rights advances made by previous generations.
She said many young African-Americans have disenfranchised themselves because only about 20 percent of them voted in the 2014 midterm elections.
"You can hashtag all over Instagram and Twitter, but those social medial movements will disappear faster than a Snapchat if you're not also registered to vote," Obama told an estimated 35,000 people, including 800 graduates of Jackson State University.
She said if people fail to exercise the fundamental right to vote, rights will be under threat.
"Congress will still be gridlocked. Statehouses will continue to roll back voting rights and write discrimination into the law," Obama said. "We see it right here in Mississippi, just two weeks ago, how swiftly progress can hurdle backward, how easy it is to single out a small group and marginalize them because of who they are or who they love."