Michelle Obama suggests Trump in White House is end of 'hope' for America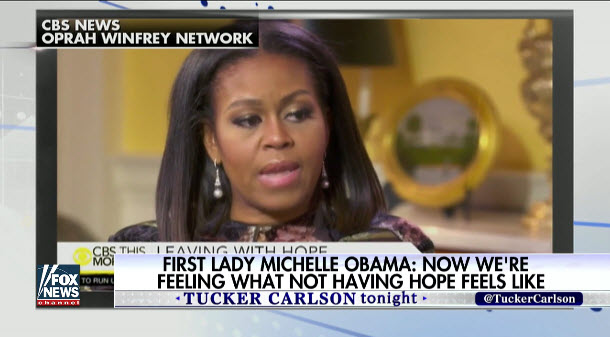 First lady Michelle Obama is suggesting the United States has lost hope now that Donald Trump has becoming president, after eight years of husband President Obama bringing "hope and change" to Americans.
"We feel the difference now," Obama said in an excerpt of her final White House interview, conducted by Oprah Winfrey. "Now we're feels like what not having hope feels like. … What do you do if you don't have hope, Oprah?"
The full interview is scheduled to air Monday on CBS-TV.
President Obama was a first-term Illinois Democratic senator when he won the White House race in 2008 with a captivating message of hope and change and became the country's first black president.
"Barack didn't just talk about hope because he thought it was a nice slogan to get votes," the first lady said in the CBS interview. "He and I and so many believe: What else do you have if you don't have hope?"