Obama gearing up for re-election campaign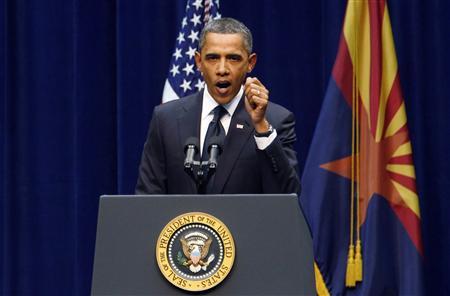 By Steve Holland
(Reuters) – President Barack Obama, gearing up for his re-election bid, will base his campaign headquarters in his hometown Chicago and close a White House office devoted to political affairs, his spokesman said on Thursday.
Obama will enter his campaign for another four-year term in 2012 in better political shape than last year when his Democrats were routed by Republicans in November 2 congressional elections.
Americans are growing more optimistic about the U.S. economy despite lagging job growth, and there is no clear frontrunner among a host of Republicans who want to oppose him.
Obama is to file paperwork with the Federal Election Commission in a couple of months to formally declare himself a candidate.
This will enable him to begin the grinding process of raising hundreds of millions of dollars — perhaps even $1 billion — needed to finance a campaign of television advertising and grassroots organization.
"I think it's safe to say" that Obama will seek re-election, said White House spokesman Robert Gibbs.
The White House political office headed by Patrick Gaspard will be closed and he will move over to the Democratic National Committee to coordinate re-election reelection efforts.
Gaspard replaces Democratic National Committee executive director Jennifer O'Malley Dillon, who will join Obama's re-election campaign, said DNC Chairman Tim Kaine.
In a rare move, the incumbent president's re-election headquarters will not be in Washington, but rather in his hometown of Chicago.
Senior adviser David Axelrod is to move to Chicago soon to help manage the effort, and press secretary Gibbs is to give way to a successor soon and convert to a more political role as an outside consultant.
These moves, in addition to the arrival of William Daley as new White House chief of staff and former campaign manager David Plouffe as senior adviser, represent a major shakeup of the White House team as it prepares for the re-election battle.
To read more, visit: http://www.reuters.com/article/idUSTRE70D0W620110120?feedType=RSS&feedName=domesticNews&rpc=22&sp=true