Obama says he didn't inform Mexico of U.S. gun smuggling operation because he didn't know about it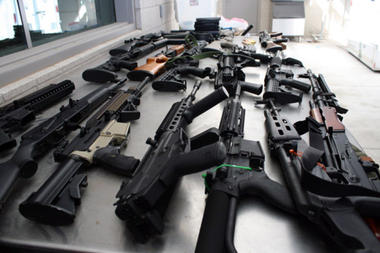 by Richard Dunham, My San Antonio
Under fire for an operation that allowed smuggling of U.S. weapons across the nation's border with Mexico, President Obama said in an interview that neither he nor Attorney General Eric Holder authorized the controversial "Operation Fast and Furious."
The Mexican government has complained that it didn't know about the U.S. operation that allowed guns to illegally cross the southwestern border so they could track the weapons.
Obama told Univision's Jorge Ramos that President Felipe Calderon wasn't informed of the operation because he — the president of the United States — wasn't informed either. When asked whether he knew of the weapon smuggling plan, Obama responded that it is "a pretty big government" with "a lot of moving parts."
The investigation into the program comes after it was connected to two weapons that were found at the scene of a border shootout that killed U.S. Border Patrol agent Brian Terry in December. Likewise, a gun smuggled from the U.S. were used to kill Immigration and Customs Enforcement special agent Jamie Zapata, but it has not been determined if it was part of "Fast and Furious."
When President Calderon came to visit Washington recently, the two presidents came together on a policy to stop drug and weapon smuggling across the border.
To read more, visit: Â http://blog.mysanantonio.com/texas-on-the-potomac/2011/03/obama-says-he-didnt-inform-mexico-of-u-s-gun-smuggling-operation-because-he-didnt-know-about-it/